Gothic-/Renaissance Harps
The name Gothic Harp is comeing from the riseing shape and the gothic elements and proportions find in the gothic architecture. Burgundy, France was very famous, so the Gothic Harp named also "Burgundy-Harp". There are only a few surviveing Harps from the periode Gotic and Renaissance. We find more in manuscripts, paintings, and sculptures. Includeing the knowledge we have from surviveing instruments, it is possible to know the height, the range of keys and the spaceing between the strings. 4 copys from surviveing instruments offered here, as well as several Reconstructions from paintings.
All Gothic- And Renaissance-Harps had bray-pins with unusual mysterious sound, these bray-pins all Profesional Harps includeing, optional for Studentversion. See also "bray-pins".
Please ask detailed for your harptype
Wolkenstein/Wartburgharp
The Gothic Harp Wolkenstein is keep at the Wartburg in Eisenach. The harp was made arround 1430-1440 from maplewood from the Alps. The inlaydecoration from alpenflowers and the rich certosinainlays from Lombardei let us know that it is Tirolian provinience. There are legends arround Oswald von Wolkenstein borne 1377 at Schloß Schoeneck in Tirol, buried 1444 at Kloster Neustift near Brixen. From him we have a lot of songmanuscripts. A legend tells, he learned Harp by whichcraft. So that harp is toled, might have been arrond him. That harp show us a lot details about konstructionspropotions in gothic architeture. In the book "Wartburgjahrbuch 1997" the Musikinstrumentrestaurator Wolfgang Wenke, Eisenach, explaining about the excelent instrument and artwork, and the Details arround that Harp.
The copy is a profesional instrument with fine craftmenship decoration and braypins. Wood optional is in curly-maple or simple maple, antique colored and polished. There is also possible to get the column with certosina-inlays. The harps sound is excellent bright warm with overtones. Soundbox from the block.
New: With Inlay Certosina.
Height 108,5 cm
Strings 26 Gut
Range d3-G
Weight 1,8 kg
Pitch 440/466 Hz
Wood Maple
MP3 1 (mit Schnarrhaken)

YOUTUBE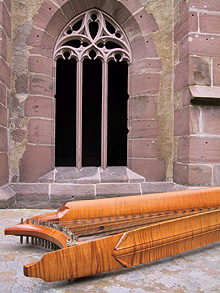 Renaissance-Harfe nach der Harfe im Kunsthistorischen Museum Wien. Vermutlich 16. Jhrdt.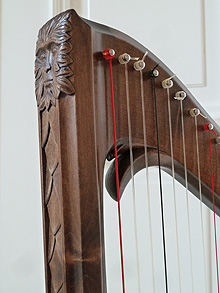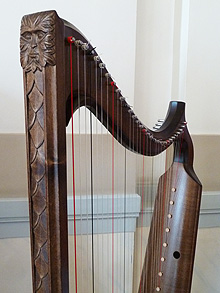 Original-Height 140 cm
Strings 29

Higher Version Heigh 154 cm
Strings 31
with h + b in the two middle octaves
Range c3-C oder C-d3
Wood Maple
Pitch 440/466 Hz
Hieronymus Bosch
From the painting "Garden of Earthly Delights" by Hieronymus Bosch (1496 Museum Prado Madrid) Aesthetic instrument with fine kraftmenship decoration and bray-pins. Clear bright sound. Profesional Instrument. Soundbox is costly worked from the block.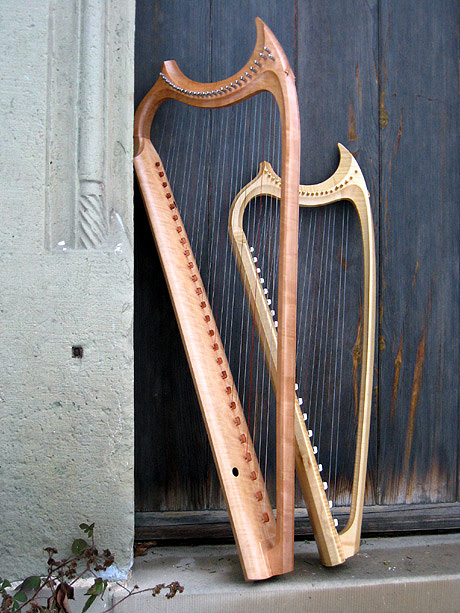 different Versions, 21 stringed like painting, or 26 stringed
Strings 21/26 Gut
Range c3-d/d3-G
Weight 1,0/ 1,6 kg
Wood Maple
Pitch 440 /466 Hz
MP3 1

MP3 2 (mit Schnarrhaken)
Van Eyck
From the painting "Gent Altar" from Jahn van Eyck (arround 1425-1435), Kathedral St. Bavo, Gent. Instrument with plain maple in Studentversion, or curly-maple, colored, polished and bray-pins for profesional. 2 different vesion; 24 stringed like painting, or 26 strings. Soundboxbasis is from the block
Height 90/102 cm
Strings 24/26 Gut or PVF
Range d3-H/d3-G
Weight 1,6/2,0 kg
Wood Maple
Option Profi- or Studentversion
Pitch 440/466 Hz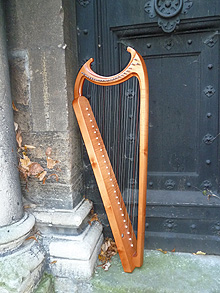 Memling I
From the painting »Musician Angels« by Hans Memling in Antwerpen ca. 1435-1494
Simple nice Instrument, 26 strings, good value, with excellent bright sound. Simple maple Studentversion. With curly maple, colored, polished and bray-pins for Profesional. Optional also with B and H in the two middle oktaves. 27 strings. c3 - G.
Height 109 cm
Strings 26/27 Gut or PVF
Range d3-G/c3 - G
Weight 1,9 kg
Wood Maple
Pitch 440/466 Hz
Option Prof- or Studentversion


Video Memling I Leah Stuttard
New: Memling 27
New Version. Halftones you can make with fingers at the neck. Instrument also possible with h and b in the two middle octaves.
Height 107 cm
Strings 27 Darm, PVF
Range d3-F/c3-G
Weight 1,8 kg
Wood Maple
Pitch 440/466 Hz
Memling II
From painting "Madonna and Child with Angels",Nationalgalerie Washington von Hans Memling ca. 1480
Simple fine instrument like Memling I, neck in detail different. Longer mensure 28/30 strings.
This instrument is especially made for H and B. Also optional with B in all octaves. Soundbox from the block. Very nice rich sound. Good value price.
Height 120/138 cm
Strings 28/30 Gut
Range 28 strings with H and B
d3-G or c3-F Weight 2 kg


YouTube: Tomo Kida
Nürnberg
Copy from the Gothic harp in the Germanischen Nationalmuseum in Nürnberg.
The Harp is dated by J.H. van der Meer to 16th century.
from literature it is one of the famouse Gothic Harp, but whith the rough craftmenship of the soundbox controversial. Soundbox from the block.
The soundbox of the copy is made thinner and with more volumn, so to get mote bright sound.
Height 102 cm
Strings 26 Gut or PVF
Range d3-G
Weight 1,75 Kg
Pitch 440 Hz
Wood Maple
Option Profi- or Studentversion
Ortenberger Altar
Early Gothic Harp in shape psalterium.
Bright, clear overtonrich sound. "Mittelrheinischer Meister", 1400.
Simple instrument, 21 stringed (left side of altar), decorated instrument, 24 strings (middle part of altar).
Height 87/96 cm
Strings 21/24 Gut or PVF
Range c3-d/c3-A
Pitch 440 Hz
Wood Maple or walnut
Gothic Harp Leipzig
Copy from the gothic harp in the Museen im GRASSI, Museum für Musikinstrumente der Universität Leipzig.
1500.
Höhe 95 cm
Strings 25 Darm, PVF
Range d3-A
Pitch 440 oder 466 Hz
Wood Butternut
Arpetta Gotic Rom
In the Museo degli Strument Musicali in Rome there is a gothic Harp with 26 Strings, dated to the 16th Century. Soundbox from the block.
Very light, nice sounding instrument maden with plane maple or walnut.
Height 100 / 89 cm
Strings 26 Darm, PVF
Range d3-G / H-f3
Weight 1,4 / 0,9 kg
Pitch 440 / 466/522 Hz
Wood Ahorn Maple
Option Schnarrhaken